The key to the best possible reproduction of your art, is the quality of the scan.
RCP operates a Cruse Scanner that provides the highest possible quality image capture that technology offers. There is no better tool for this purpose available at any price.
RCP offers large format high resolution Cruse Scanning from RCP on Vimeo.
Precise Color Reproduction: 
RCP provides state of the art color environment on all of our equipment. Using custom color profiles we can assure color rendition to be as accurate as possible. This is not 100% automatic! It is customary to "fine tune" the color rendition after the scan. Every scan is checked and compared to the original art by our highly trained staff to assure accuracy. If you are using RCP to print the reproductions, we will provide a proof print, on the media of your choice, for your signature of approval. In this manner, you can order more copies in the future and be assured they will match.
Precise Alignment of the Camera:
This is the item that is usually overlooked by photographers when capturing pictures of art. The photographer must assure that the art is 100% in alignment with the focal plane of the camera. This requires special equipment for this purpose that photographers usually do not own. Make no mistake, this is critical. Perfect alignment of the two planes (art & camera) in parallel is a must and a Cruse Scanner solves this effortlessly. The scan head is in perfect parallel alignment with the art bed at all times. Because the Cruse Scanner captures the image in a long narrow strip as the art moves under the capture head, all issues with "lens correction" are avoided as well. We all know that typical camera lens create distortion as well as "light fall off" in the corners, while these are problems that can be corrected with software, they simply do not exist for a Cruse Scanner.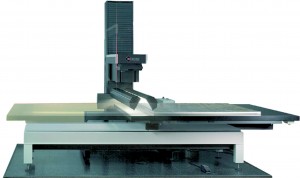 Precise Lighting:
When using a camera to capture flat art, professionals know that it is vital to have no more than 1/10th of a stop difference in the lighting across the entire face of the art. This is difficult to achieve and will take a professional a lot of time to set-up with an accurate light meter, professional lighting equipment, experience and a lot of patience. Without this considerable effort, it is simply not possible to have a perfect image capture. A Cruse Scanner completely eliminates this issue, using state of the art LED lighting that focuses perfectly on the narrow strip under the aperture and by moving the art through that specific area, all lighting problems are eliminated. Additionally, the lighting on a Cruse Scanner can be varied with complete reliability to produce different effects to capture the texture of the subject. The lighting is so good, that we can scan art under glass if desired. Accurate color rendition is assured with precise LED lighting.